Omnivores Definition
Omnivores are animals that have wider food options, and they can eat and digest food materials from both herbs and animals. Most living organisms belong to the omnivore category. Moreover, organisms from all types of tropical levels are the main food sources of omnivore animals. Omnivore animals can be found everywhere on the planet.
The size of omnivore animals ranges from small insects like ants to higher organisms like humans. You can find thorough information on this page, including the omnivore animals name list and their food sources.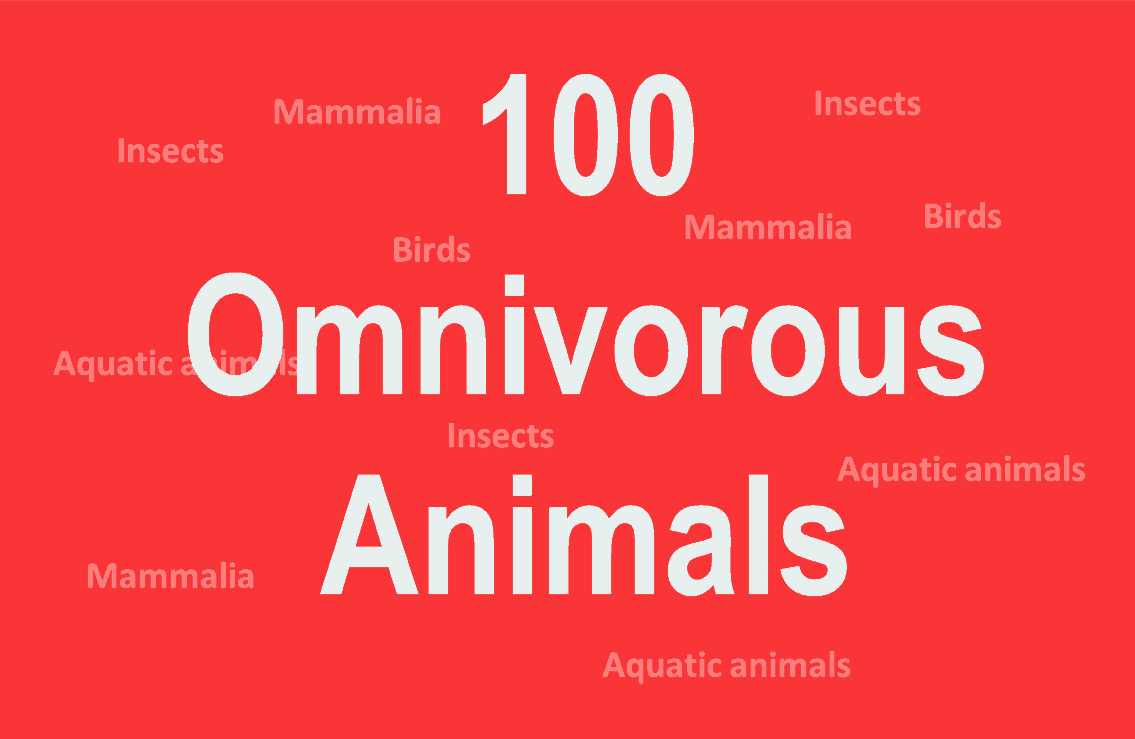 List of omnivores animals and their food
Bear: Technically, bears are carnivores, but trophically, they are omnivores. That means they consume animals like insects, fish, small reptiles, etc.
Civet: It is essentially an omnivore that eats fruits, nuts, rambutan, chiku, and coffee, and also consumes insects and small animals.
Chipmunks: Chipmunks are also omnivores, meaning they eat different kinds of food materials. They aren't restricted to specific tropical levels but consume what they get on their premises. They consume plant materials (fruits, nuts, and seeds) and animals, including baby mice, small birds, eggs of different birds, worms, and insects.
Coyote: It is an opportunistic omnivore that regularly eats wild animals and plants and typically eats whatever it gets. It hunts and scavenges small living creatures, ranging from small animals like mice to dogs.
Dog: Dogs are essentially omnivores, consuming food materials that are derived from both plants (grains and fruits) and animals (cats, rats, birds, etc.). Surprisingly, dogs eat grass and small plant leaves, especially wild dogs, which is quite common in most cases.
Human: Humans are the best examples of omnivore animals. Humans can hunt the animals and consume whatever they prefer to eat.
Hedgehog: Plant-derived materials like vegetables, fruits, and seeds, as well as animal-derived food materials like insects and other invertebrates, are the preferred food items for hedgehogs.
Monkeys: Monkeys also fall under the category of omnivorous animals, and they consume vegetables, seeds, fruits, nuts, and floral parts of plants. A few monkeys also eat animal-derived foods, especially eggs of birds, spiders, insects, and small reptiles.
Opossum: It is also known as a possum and eats dead animal matter, birds, rodents, frogs, eggs, and insects. It can also consume plant-based materials such as fruits and grains.
Pig: Pig is an omnivore and a foraging animal that majorly eats plant leaves, roots, fruits, and flowers. Moreover, it hunts small insects and fish.
Rat: A rat is an omnivore, that eats plant parts and small animals like insects, spiders, etc.
Squirrels: Most types of squirrels are omnivores, which means they prefer to eat both plant- and animal-based materials.
Birds: Omnivore birds eat both plant- and animal-based materials. Examples: Chicken, Duck, Sparrows, Crows, etc.
Fish: Omnivore fish eat both phytoplankton and zooplankton. Examples: Catfish, Parrotfish, Damselfish, etc.
Omnivorous mammals name list
Mammalia



Omnivore

Scientific Name

Main food

1

Antbear

Orycteropus afer

Ants, termites, and plant materials

2

North American black bear

Ursus americanus

Grass, roots, berries, succulent plants, meat, fish, insects, and larvae

3

American badger

Taxidea taxus

Insects, earthworms, prairie dogs, mice, ground-dwelling birds, and groundhogs

4

Groundhogs

Marmota monax

Insects, grubs, baby birds, variety of plants

5

Coatimundis (coatis)

Nasua nasua

Fruit, small rodents, lizards, and invertebrates

6

Civet cat

Civettictis civetta

Small snakes, small birds, insects, rats. Fruit include mangoes, chikus, bananas, etc.

7

Sloths

Folivora

Leaves, twigs and buds, flowers, fruits, and occasionally consume insects

8

Hominids

Hominidae

Fruit, bark, flowers, leaves, animals, insects, etc

9

Skunk

Mephitidae

Carrots, peas, apples corn, berries, pears, bananas, squash, small prey, snakes, beetles, grasshoppers cockroaches, crickets, spiders, fish, etc.

10

Raccoons

Procyon lotor

Fruits, seeds, nuts, insects, frogs, eggs, and crayfish

11

Foxes

Vulpes vulpes

Birds, rabbits, rodents, eggs, fruits, carrion
Omnivorous insects name list
Insects

Omnivore

Scientific Name

Main food

1

Ants

Formicidae

The sap of plants and various fruits. Small living or dead invertebrates, milk of aphids, and other small Hemiptera.

2

Houseflies

Musca domestica

Carbohydrates, animal blood, etc.

3

Cockroaches

Blattodea

Decaying matter, meats, books, starches, sweets, hair, etc.

4

Polyphaga beetle

Polyphaga

Plants, dung, snails, pollen, insects, carcasses, small fish, tadpoles, snails, etc.

5

Spiders

Araneae

Eats pollen, worms, snails, and other insects.

6

Wasp

Vespidae

Larvae of insects, sugars

7

Cricket

Plant material and smaller insects

8

Horn moth

Ceratophaga vastella

Larvae of insects, fruits, vegetables, etc.

9

Stripetails

Isoperla spp.

Leaves and animal matter

10

Pygmy Grasshopper

Tetrigidae

Eats leaves and sometimes animal tissue and animal faeces

11

Cave weta

Rhaphidophoridae

Plant products, fabric or cloth material, insects, and even fungus
Omnivorous birds name list
Birds

Omnivore

Scientific Name

Main food

1

Hummingbird

Trochilidae

Nectar of flowers, small insects such as mosquitos, beetles, aphids, etc.

2

Peafowl

Pavo cristatus

Amphibians, eggs, reptiles, arthropods, insects, flowers, seed heads, nuts, etc.

3

Roaster

Gallus gallus

Nuts, grains, leaves, flower petals, lizards, insects, worms, etc.

4

Crow

Corvus

Grains, nuts, animal meat, birds, lizards, etc.

5

Duck

Anatidae

Insects, fish, worms, snails, weeds, seeds, etc.

6

Pigeon

Columbidae

Insects, worms, grains, seeds, etc.

7

Cranes

Gruidae

Grain, berries, fish, rodents, amphibians, insects, etc.

8

Pheasant

Phasianus colchicus

Grain, caterpillars, ants, earthworms, snails, beetles, crickets, etc.

9

Starlings

Sturnidae

Rice, vegetables, fruit, seed, worms, snails, insects, etc.

10

Oriole

Icterus

Grapes, oranges, nectar, insects, etc.

11

Thrush

Turdidae

Caterpillars, worms, snails, and fruit.
Omnivorous aquatic animals name list
Aquatic animals

Omnivore

Scientific Name

Main food

1

Turtles

Testudines

Fruits, vegetables, and animal products

2.

Horseshoe crabs

Limulidae

Algae, plants, small clams, crustaceans, and worms

3

Lobsters

Nephropidae

Plant products, worms, fish, mollusks, other crustaceans, etc.

4

Whale shark

Rhincodon typus

Plants and algae, small shrimp, fish, and plankton

5

Basking shark

Cetorhinus maximus

Plants and animal products

6

Common perwinkle

Littorina littorea

Algae and barnacle larvae

7

Goldfish

Carassius auratus

Plants, crustaceans, and insects

8

Rudderfish

Seriola zonata

Plankton, plants, algae, meat, etc.

9

Cory catfish

Corydoras

Algae rounds, shrimp pellets, tropical granules, and plant materials

10

Plecos

H. plecostomus

Plant debris, insects, small fishes, animal products

11

Frogs

Rana temporaria

Insects, worms, small fish, and algae.
Related Topics
Herbivores carnivores and omnivores examples
Other Biology Topics….
References:
Jacqueline Boyd. 14 January 2020. Encyclopedia of Animal Cognition and Behavior: Omnivore. springer books.
Kim, Soonok et al. "Comparison of carnivore, omnivore, and herbivore mammalian genomes with a new leopard assembly." Genome biology vol. 17,1 211. 11 Oct. 2016, doi:10.1186/s13059-016-1071-4.
Chubaty, Alex M et al. "On the evolution of omnivory in a community context." Ecology and evolution vol. 4,3 (2014): 251-65. doi:10.1002/ece3.923.
Pappas, Maria L et al. "Omnivore-herbivore interactions: thrips and whiteflies compete via the shared host plant." Scientific reports vol. 8,1 3996. 5 Mar. 2018, doi:10.1038/s41598-018-22353-2.
Root-Bernstein, Meredith, and Richard Ladle. "Ecology of a widespread large omnivore, Homo sapiens, and its impacts on ecosystem processes." Ecology and evolution vol. 9,19 10874-10894. 11 Sep. 2019.